SECC sadly acknowledges the passing of co-founder John Fuyuume 1925-2016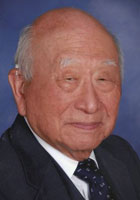 John N. Fuyuume, 91, of Shannondell in Audubon, PA and formerly of Upper Deerfield Twp., NJ died Friday evening, September 30, 2016 suddenly and unexpectedly.
John was born in Los Angeles, CA on April 24, 1925 and was the son of the late Junji and Chise (nee Takaoki) Fuyuume. At the age of 16, John and his family were incarcerated in the Gila River War Relocation Authority in Gila, AZ until his family was given the opportunity to relocate to Seabrook, New Jersey to work for Charles F. Seabrook and Seabrook Farms.
John went on to earn a Bachelor's Degree in Music from the Eastman School of Music and a Master's Degree in Music from the University of Rochester, NY. He graduated with highest honors. He also studied industrial engineering, accounting and computers.
On April 24, 1965, he married Setsuko "Sets" Hada at the Deerfield Presbyterian Church in Deerfield Street, NJ.
For several years John worked for International Utilities at various locations as their controller. His job duties then took him to Hamilton, Bermuda where he was Vice President of Gotaas-Larsen Shipping Corporation.
In 1990 they retired and returned to the Bridgeton, NJ area where John worked tirelessly to establish the Seabrook Educational and Cultural Center (SECC). The Fuyuumes created the Setsuko and John Fuyuume Piano Endowment Fund for the Eastman School of Music in Rochester, NY where he served on their Board of Managers. He also served on Board of Governors of the Japanese American National Museum in Los Angeles, CA, the Cumberland County Tourism Advisory Council and the Upper Deerfield Township Historical Commission. He was also served as president of the Bay Atlantic Symphony in Bridgeton and was a past-president and former treasurer of the Seabrook Chapter – Japanese American Citizens.
His final years were spent with his wife of nearly 50 years at Shannondell in Audubon, PA.
This past spring, John received two special honors: He was recognized in March by the Bridgeton Main Street Association as "Legend" in the greater Bridgeton community and in April was chosen to throw out the ceremonial first pitch at a Phillies game honoring Asian Pacific Celebration Night at Citizens Bank Park.
John is survived by two sisters-in-law, Eiko Ikeda (Bunji) and Chiz Sakata and, all of Shannondell, one brother-in-law, Kazuaki Hada (Jackie) of AZ and several nieces and nephews. In addition to his parents, he was predeceased by his wife, Setsuko, in 2015, a brother, Robert S. Fuyuume, in 1978 and a sister-in-law, Miyoko Wong in 2015.
Relatives and friends are invited to attend the funeral service at the Deerfield Presbyterian Church, Old Deerfield Pike in Upper Deerfield Township on Friday afternoon, October 14th at 1 o'clock where friends will be received at the church from 11:30 to 1.
The burial will follow in the church cemetery.
In lieu of flowers, memorial contributions are requested to Seabrook Educational and Cultural Center, 1325 Highway 77, Seabrook, NJ 08302, to the Deerfield Presbyterian Church, PO Box 69, Deerfield Street, NJ 08313 or to the Seabrook Chapter JACL, c/o Sharon Yoshida, 4 Mallard Dr., Bridgeton, NJ 08302.
Funeral arrangements are under the direction of Freitag Funeral Home, Bridgeton, NJ.